Thank you for joining us again as we go over the logic and planning that has gone into our tiny cabin country music compound build! In our previous posts we've covered identifying our resources, and narrowing down our needs in order to make efficient and budget-conscious decisions about the way this project comes together, but before we get further down the construction path, we also need to take a realistic look at the dreams we have for this property's future.
This article may contain affiliate links or paid link placements. All opinions are our own.
One of the most important aspects to this project is that we include our dream spaces. Our revenue and content-generating performance areas, makerspaces, and self-sufficient homestead features. These are going to be what really separates our former way of living from this new communal creative hub, so it is crucial that we include these areas in every stage of our planning and development.
Performance Spaces:
The first priority is that we get our performance spaces worked out. As musical guests cycle through the property we want to have natural and comfortable spaces in which creativity just blossoms out of the very environment they are surround in. For non-musical guests, this is part of the appeal of staying with us… the ability to be part of an intimate performance that may only happen once in a lifetime. For our revenue-generating purposes, this gives us a way to generate content for our sites that is special and unique.

Main Stage: The bunkhouses and anchor cabins will be connected together via one massive raised deck that unifies the faces of the buildings. That deck will be covered and pre-wired to allow for a quick-connect PA system, LED stage lights, and stellar concert sound system.

Campfire Circle: More than just a place for a bonfire, the campfire circle will include comfortable seating and simple discreet mounts for cell phones mics and cameras to capture acoustic performances like no other.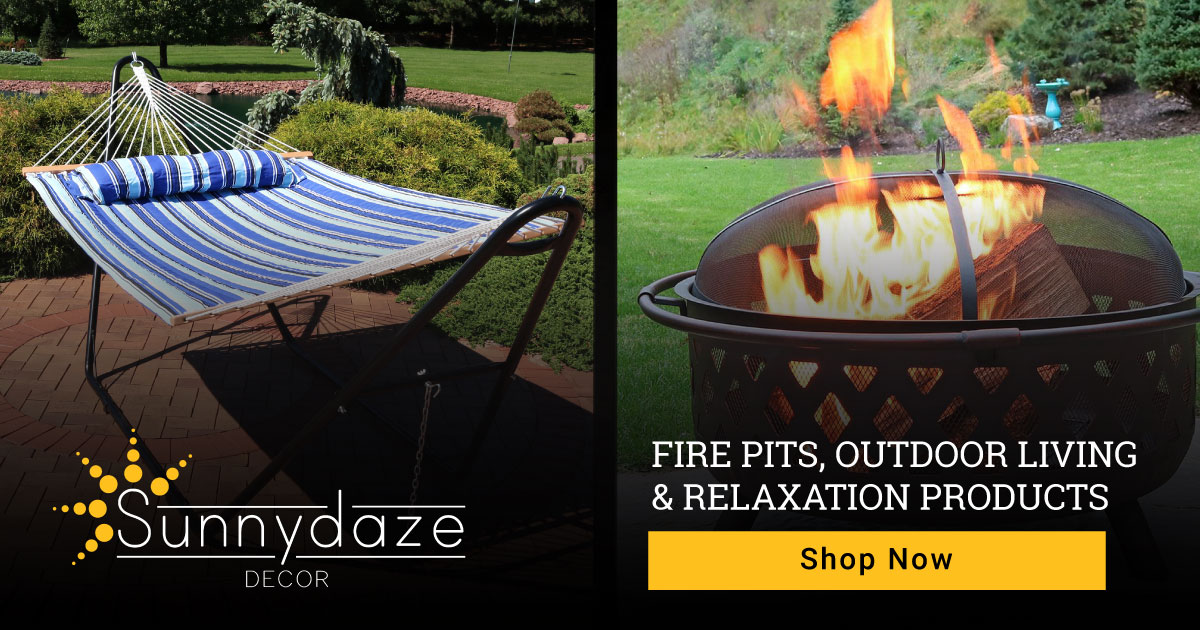 (ad) – Fire up the festive atmosphere at your fall parties with Sunnydaze Outdoor Fire Pits
Recording Studio: Much further down the line, an additional full-service recording studio will be added to the property to capture radio-quality moments of inspiration and collaborations between our guests.
Maker Spaces:
Creativity comes in many forms, and when the musical muse stops singing, then sometimes a little work with our hands can draw her back in. In addition, we can't play music all the time, so the ability to create and craft is something we look forward to off the clock, and the resulting crafts can help supplement our modest income.

Woodshop: The property features a 30'x40′ partially enclosed workshop fully outfitted with woodworking tools and supplies of all kinds to bring out the carpenter in all of us.

Kitchen: Whether it's to increase personal skill, record a country cooking segment, or participate in a local bake sale, the kitchen is so much more than just a place to make daily meals. With the open layout, constant full stock of pantry and freezer goods, and state-of-the-art appliances and equipment (thanks in major part to some amazing Black Friday deals from Lowes and Slickdeals.net) culinary magic is just an idea away.

Craft Shop: From macrame to major cosplay, the craft shack has just about every creative supply you can imagine for smaller tabletop crafts. This is especially helpful for musicians looking to learn a little about DIY music merch. We have taught countless visitors how to screen print t-shirts, make custom guitar pic and string jewelry, and so much more.

Cabin Collections: If you're just looking to pass the time with a little couch-locked inspiration, each cabin has a small collection of hand instruments, classic literature, record collections, and so much more to spark that inspired mind or just make the most of your downtime.
https://www.youtube.com/watch?v=2ksWKOy665o
Homestead Features:
If honoring the outdoors is your thing, then we've got the setup for you. In addition to inspiring creativity, it's important that we, and our guests, stay in touch with the natural cycle of life, as well as create opportunities to be as self-sufficient as possible in a world that is otherwise drowning in "convenience".

Garden: In the spring and summer months we maintain a highly-productive kitchen garden, with plans to expand it in the coming years to serve a roadside farmer's market.

Chicken Coop: With a varied flock of Ostralorps, Silkies, Production Reds and more, our hens not only provide us with fresh eggs, but also with fresh compost, lawn maintenance, and a great source of hands-on education for younger visitors.

Fruit Orchard: We're lining the edges of our property with an assortment of fruit and nut trees to add to both our own bountiful harvest, and the variety of produce available at our market stand.

Rain Harvesting: To reduce our costs and improve the quality of our gardens, we're instituting a variety of rainwater catchment systems to serve both the animals and plant life on the property.

Greenhouse: And finally, our charming greenhouse made of up-cycled windows and leftover lumber is the perfect place to keep the plants coming as we start and sell seedlings throughout the year for other aspiring farmers.
See the inspiration behind the madness by following along at https://www.pinterest.com/whiskeychick/baron-hill-summer-camp/