Last week we covered how we looked at our available resources, and identified our needs when it comes to building this tiny cabin country music community in the foothills of the Ozarks. This week we'll be taking those resources and needs and showing you how they all play into fulfilling our dreams for the property, and how we're using Slickdeals.net to pack as much luxury we can into our tight budget!
While the property itself will be the forever home of CountryMusicNewsBlog.com's founders, that is only one of the many roles it will serve going forward. This property will also serve as a place for our grown children to come visit, a revenue generator as individual AirBnB cabins, and most importantly, a setting, stage and studio for country music content generation. With all of this in mind we broke down the project into several zones, with the Anchor Buildings being of the highest priority to finish since we are living onsite during the construction. These will be followed by the revenue-generating bunkhouse cabins, then finished out with picturesque performance and content production spaces tucked throughout the property along with the more functional features of a light homestead.
THE ANCHOR BUILDINGS:
The Master Cabin – This would be the caretaker's space… a single story building that would house a master bedroom, full sized bath, and living room with space for a kitchenette or office area. With a little forethought, we designed this space to be ADA compliant, realizing that someday we may need those wider doors, a walk-in shower, and overall a generally more accessible floorplan. We already owned this 16'x32′ TDS building, which for years served as a soundproofed recording studio, so it would be the quickest to complete by just moving a wall here and adding some flair there. This is also the space where we upcycled many of the features and furniture from our "Big House" so that we will always have those pieces of our life before the transition. More on that in a future post though. We did add a few new upgrades though, with my favorite being the point-of-use electric hot water heater and full-sized 60inch shower stall that we saved a bundle on using Lowe's coupons we found on Slickdeals! Going tiny doesn't have to mean short showers in cramped spaces!

The Kitchen/Laundry – Since this property is meant to be a place of gathering, not individual isolation, it made sense (and introduced a world of both financial savings and square footage freed up) to only allow for a small kitchenette with a mini fridge and coffee station in the individual cabins, and instead dedicate one central building to a very large full-service kitchen and laundry available to everyone on the property. Again, we already owned this 12'x24′ TDS building that was formerly finished out to serve as a detached office. We moved it into position and added some high-end custom cabinets we got for a song and dance at the nearby Habitat ReStore on their half-price day, worked in some amazingly flexible and versatile Pex plumbing, and another of those fantastic Point-Of-Use electric water heaters from Lowe's. The end result is a very large open kitchen design with a breakfast nook and dedicated laundry area. Even better is that we didn't have to sacrifice on pantry storage, which if you've ever lived through a winter in the Ozarks, you know the pantry is a priority!
THE BUNKHOUSES
It seems the defining difference between the two bunkhouse cabins is actually determined by those who will use each one the most. While we do plan on renting these as guest cabins, we also wanted to add a little personalization for our family. In our large blended family there is an even split between the young men and young women, with all of them either already grown and flown, or impatiently stretching their wings ready to fly. Both teams got together and came up with a list of "essential features" for the cabin they would stay in most which were then molded into the finished plans for each bunkhouse.

For the bunkhouses we went to our local Derksen dealer and ordered 2 Deluxe Lofted Barn Cabins, made to mirror each other since they will eventually sit side by side nestled in between the two anchor buildings, with a large deck connecting them. Each cabin has a cute bay window nook and two large lofts to work with, which gave us plenty of options for divided spaces and unique layouts.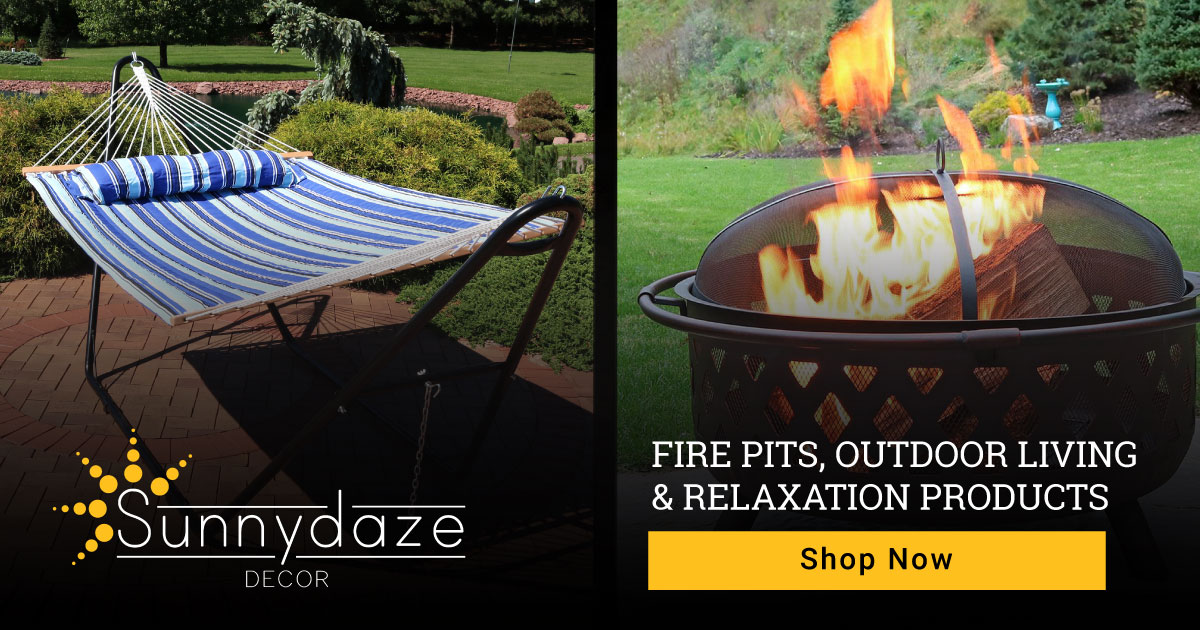 (ad) – Fire up the festive atmosphere at your fall parties with Sunnydaze Outdoor Fire Pits
The Ladies Cabin – At the top of the ladies list were requests for cozy reading spaces, a luxurious bath, plenty of closet space, and at least one ground-floor bedroom with plenty of natural light throughout the cabin. Knowing this in advance has helped us collect materials like a set of glass french doors that will lead from a downstairs bedroom into one of the garden areas, and a vintage cast iron bathtub to be the centerpiece of a spa-like full sized bathroom. With the low overhead clearance in the lofts, we're opting to turn only one of them into a sleeping area, while the other will serve as a library and lounge. Our plan is to "move" the loft more inward to the center of the building so that it overlaps the rear downstairs bedroom, bathroom, and kitchenette area. They it will be filled with plush rugs, giant pillows and bean-bag style seats, and of course custom bookshelves lining the walls and stairs leading up. With the addition of a partition blocking the last 3 feet we can add custom drawers, hanging racks, and a blanket ladder that serves as an access point to a hidden closet in an otherwise vaulted ceiling bedroom.

The Gentlemen's Cabin – When it comes to amenities in the gentleman's cabins, they ared very little about luxury sleep zones and were all about multi-media capabilities. For this reason we're leaving the lofts as they are, simply adding some sliding door cubbies along the short sidewalls for clothing storage, and a low-lying full-sized bed in each one. The downstairs bay window is being converted to a desk area, with the whole cabin taking on a "gentleman's study" vibe. The walls are getting the sound-buffering treatment of extra insulation and 1/4″ thick plywood paneling cut to mimic the very trendy shiplap style. Now to bring in that touch of luxe that building small makes affordable, we decided to vapor-seal the entire bathroom and upgrade the ventilation and finishes to create steamroom and sauna capabilities. We're leaving the common area with high ceilings, opting for a wet bar in lieu of a kitchenette, and making sure that the surround sound and big-screen TV are perfectly placed for maximum movie night and gaming enjoyment.
Stay tuned for Part Three:
Next week we're coming back with details about the outbuildings, such as the makerspace shop, the herbal medicine greenhouse, the chicken coop, and of course, the variety of performance and filming spaces that are getting tucked into the property, and the steps we're taking early on to make those spaces so much easier to put in later!
This post may contain sponsored or affiliate links. All opinions are our own.

See the inspiration driving our build at https://www.pinterest.com/whiskeychick/baron-hill-summer-camp/